| | |
| --- | --- |
| | Late Medieval |
The 14th Century: Economic and Political Decline; Balgonie Begins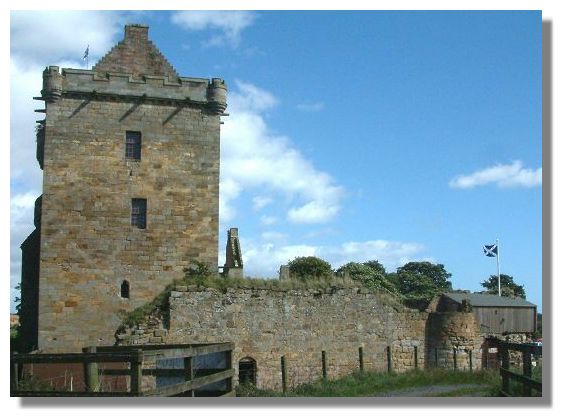 In all probability the 14th Century saw Markinch continue to decline. The centre of power had already shifted north to Cupar and the principal focus of the Earls of Fife had long moved away from the Leven Valley. The Valoniis family moved to a new stronghold on the Island of Inchgall on Loch Ore. Dunfermline and St. Andrew's flourished. Unlike Cupar, Markinch had no direct access to the sea by river and no royal burgh charter. The parish had secured a strip of land on the coast where fishing revenues doubtless supplemented the priest's income but, economically, a town that was hemmed in by marshes and not sited on a navigable waterway was not going to prosper.
The Lindsays purchased Wester Markinch, and John Multray, the Lord of Markinch began to carve out a barony around the town in the power vacuum left by the departing Valoniis family. His was a Markinch dynasty that would last for ten generations
Around 1360, however, a new seat of power sprang up further down Levendale with the building of the massive tower of Balgonie Castle (above) by Sir Thomas Sibbald, treasurer to David II. This high office was later held by their successors, the Lundie family.
The 15th Century: the Formation of the Great Landed Estates

The 15th Century is marked by the rise of the great landed estates that were to dominate the area for years to come. The Balbirnie estate was held by John de Balbirnie, descendant of somebody who had fought with Edward for England, whilst the estate of Balfour (house by Milton now demolished) was held by the descendants of Sheriff John de Balfour who had died fighting on the other side with Wallace.

Following the marriage of Christiana Valoniis, the last of the line, to John Cockburn, the lands of Brunton and Dalginch were in the hands of the Cockburn family. The feudal superiority remained with the Wardlaws, the family name of her first husband. What was, until recently, the Rothes estate was held by the poverty-stricken Auchmuties. Of the ordinary people toiling in the fields and in the coal mines and paying their taxes, virtually nothing is known.
You can use the links below to visit our other history pages
Researching the past for our future......