| | |
| --- | --- |
| | Pre-History |
Neolithic and Bronze Age - Beer in the Park?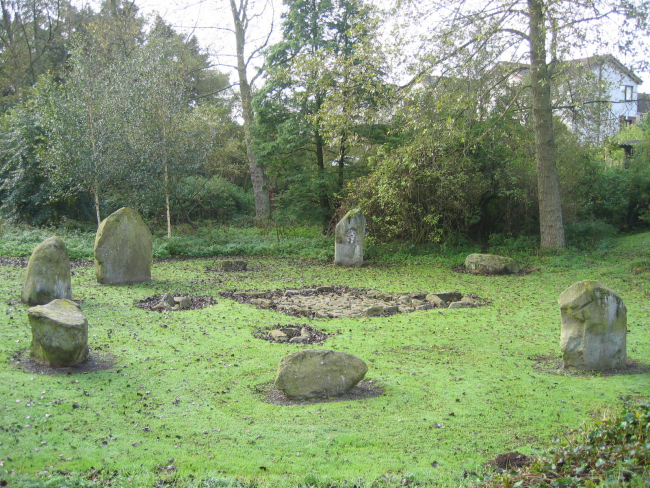 The facts established by archaeological investigation in recent times show that the area to the NW of modern Markinch was Fife's most important ritual complex during the Neolithic (New Stone) and Bronze Ages.
Balbirnie Park has on display a group of standing stones (above), a small portion of a much larger religious area. This included a henge-like circle, originally of timber, 65 metres in diameter. The area was in use for over 2000 years from around 4000 BC and changed greatly during that time as social structures developed and funeral practices changed. Remarkable amongst the finds was part of a beaker with traces of a beer-like substance still sticking to the pottery!
The Iron Age - a View from the Terracing!

Very little is known about the Iron Age in Markinch and the five massive terraces cut into the north side of Markinch Hill have yet to be dated: they may even be medieval in origin (or, at least, levelled and used for tillage at that time). The whole complex is fully 300 metres long and the terraces range from 5 to 9 metres in breadth, spanning a vertical range of 30 metres, comparable to the terraces at Raith Rovers' ground. Indeed, they overlook a flat area once known locally as "The Playfields".

Whoever built them expended an enormous amount of time and labour. They were clearly built for a purpose, but whether that related to defence, status, cultivation or entertainment is for the archaeologist to discover.
You can use the links below to visit our other history pages
Researching the past for our future......